---
關於 Juliana Laface
Hi! I'm Juliana, a Web Designer and Brand Creator who's been turning client visions into remarkable results for over a decade. I work with local, national, and international small business owners, providing them with websites and branding elements that are both modern and memorable. I pride myself on combining my graphic design, marketing, and website experience to deliver excellence to my clients. When I reveal a final design and show my clients that their branding and website can be even more remarkable than they've ever imagined, I know I am living my purpose and doing the work I was meant to do.

...
---
精選專案 (20)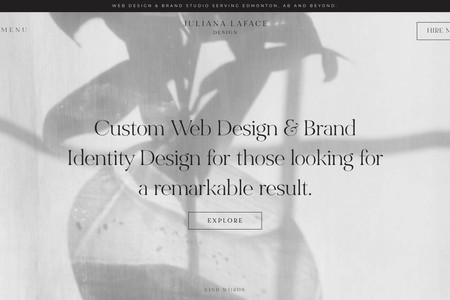 ---
Juliana is everything that's right about working with a live, real person on a design project. She gets the subtleties of what you are after. I did my best to explain to her what exactly I was looking to achieve with my 2 projects, and she delivered websites that we not only aesthetically very pleasing, but the behind the scenes set up and the ease of managing and updating has been very satisfying. I would strongly recommend her for high quality web design.

...
Thank you for the very kind words, Jeff! You were easy to work with and I enjoyed our collaboration! :D

...
---
Dr Yuni Gardner
---
2022年9月25日
---
查看專案
Juliana was so professional and easy to work with. She made the website development process so comfortable and effortless. She was also able to implement all the designs I envisioned plus more that I had not even thought of. I highly recommend hiring Julianna to rebuilt your dream website!

...
---
Shawna LeMott
---
2020年8月12日
---
查看專案
Juliana is professional and knowledgeable about her industry. She is easy to work with and delivers quality results. I highly recommend her.

...
---
Juliana was amazing to work with. I came in with a small business start up with no experience in making a logo or website. Juliana was patient and helped create a logo and website that I'm extremely happy with! I couldn't have imagined the whole process going any smoother than it did. I would recommend her work to anyone that's looking for a website or logo built!

...
---
speakenglishcleare
---
2020年8月7日
---
查看專案
Juliana follows a winning process for her projects. She asks all the right questions to ensure that she can deliver on your expectations. I found her to be responsive - getting back to me in a timely manner. Most importantly, she really listened to what I wanted and tried to strike the right tone on my website. I'm delighted with the results.

...
---
Brittini hostyn
---
2020年7月31日
---
查看專案
Juliana did an amazing job on my website. She took my references and vision and made it come to life. She was easy to work with and responsive as well as has a true eye for design. I am truly over the moon with my new website. I will definitely recommend her to anyone I know.

...
Brittini! Reviews like this reaffirm that how much it is that I love what I do. Thank you so much for the amazing review! You were such a pleasure to work with. Wising you the best with your new brand and website!! :)

...
---
Juliana is amazing at what she does, she understood our company's vision and delivered in a very professional manner. We love our new website! Highly recommend her! Thanks Juliana!

...
---
Juliana was great to work with she set out a plan and expectation for both of us and followed through on it in the time frame she committed to. Would recommend Juliana for your project if you are looking for help

...
---
Lillian Dale
---
2020年6月16日
---
查看專案
Juliana was exactly what Lillian Blair Interiors needed to get our website up and running. She is inline with all the trends of website design and is so lovely to work with.

...
---
Juliana is great to work with and provided a quick and excellent solution when I needed help with my website.

...
---
Julianna easily understood what I was trying to convey with my website and had the confidence to make solid decisions and changes to it amazingly fast! I hope to continue working with her to advance my online presence

...
---
Davis Sheremata
---
2020年4月14日
---
查看專案
Juliana is a highly-talented designer who has been a huge help getting my website up and running. She is very professional, a great communicator and always pleasant to deal with. Many thanks - I look forward to working with you again!

...