---
關於 More Than Your Brand
Hello, I'm Veronica - caffeine-fuelled creative problem solver and Wix website builder ... My website design expertise is backed by a decade of experience in small business marketing. Before I decided that designing websites was what I loved doing best, I helped dozens of small business owners become skilful, confident marketers. I also taught classical piano and built an online floristry business. In life and business, I'm curious and up for a challenge. I'm also keen on simplicity and streamlining. As your website designer, I'll make it easy for you to offer more of everything that matters to you and your customers. A beautiful website - that's a given. A beautiful website that does everything seamlessly and simply - that's what I do. Do you want to connect? You can find me here ... Website: https://www.morethanyourbrand.com.au/ Instagram: https://www.instagram.com/morethanyourbrand/ Facebook: https://www.facebook.com/morethanyourbrand LinkedIn: https://www.linkedin.com/company/morethanyourbrand

...
---
精選專案 (20)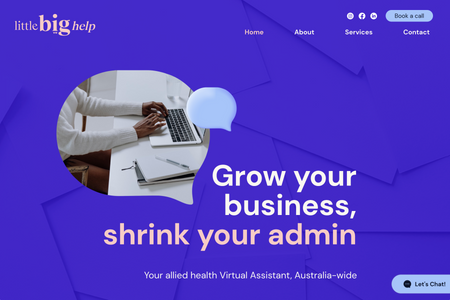 ---
May Stepancich
---
2023年5月26日
---
查看專案
I was happy to have found More Than Your Brand! Veronica was so amazing and lovely to work with. She was very professional and very helpful and very supportive from beginning till end of the project. I 100% recommend More Than Your Brand for anyone looking to build their website!

...
Thank you for your lovely review May! It was such a pleasure working with you to create the branding and website for Little Big Help VA!

...
---
SceneWorkout
---
2021年10月4日
---
查看專案
Veronica was an absolute dream to work with. She was able to bring our vision to life perfectly and was great at communicating exactly where things were at the whole way through. I couldn't recommend her more highly. We absolutely love our finished website!

...
---
Kristy Plumridge
---
2020年11月6日
---
查看專案
Stop looking for a website designer and book Veronica now. She is one of the most friendly, talented and professional people I have worked with. She spent considerable time with me nailing the brief at the beginning of the process which meant the first draft of my site was how I envisioned it. Just some minor edits and tweaks and voila - it was live! Veronica was always in communication with me about status and the feedback process was incredibly easy and efficient. I could not recommend Veronica highly enough. I'm sharing her details with anyone that asks me about finding a website designer.

...
---
Steph Stavrinou
---
2020年6月20日
---
查看專案
Veronica is amazing! I couldn't have asked for a better person to take me on this journey in creating a website! She really understood everything that was "me", what I love, what my business is about and created an amazing website from the information I gave her. We didn't have to make too many changes and if I get stuck I feel confident that I can reach out to her and she will help me work through my problem. Absolutely fantastic! Steph

...
---
Yvette Cotten
---
2020年2月28日
---
查看專案
I will strongly recommend More than Your Brand and Veronica. The work is great, she is a pleasure to deal with and delivers excellent work, and on time. Well priced too.

...
---
My experience with More Than Your Brand was outstanding. Excellent communication, everything promised was delivered professionally & in a time efficient manner. Highly recommend.

...
---
More than your brand and Veronica was fabulous to work with. I provided a website design for her to build in Wix and the communication, process and work was perfect. I would highly recommend her to build your Wix website and have already used her again for another project. Thanks Veronica!

...
---
Bruce Mullan
---
2019年10月16日
---
查看專案
Veronica was really easy to work with and nothing was too hard or complex. The biggest challenge was managing scope and what goes into the website for Day 1. We got there through some helpful discussions by tossing up ideas and prioritising. I am really happy with the new site and wished I had of engaged someone like Veronica several years ago! I would happily recommend Veronica ((and More Than Your Brand) to others that are considering improving their web presence. Thank you Veronica - it was a pleasure to work with you.

...
---
Moonan Cottage
---
2019年4月10日
---
查看專案
I would highly recommend More Than Your Brand, I was impressed from the get go. With them understanding my vision for my re brand and executing it better than I had envisaged. All the way, they kept me informed and up to date with progress.

...
---
frankdungan
---
2018年12月20日
---
查看專案
Veronica is very creative yet patient with computer-allergic people like me. She is very professional in her approach and produced an excellent site as an end result. Highly recommended.

...
---
lemoninlemonsorbet
---
2018年12月14日
---
查看專案
Veronica is incredible! I had no clue on anything to do with WIX and Veronica blew me away with what she has done with my website. It is classic and fun and completely what my business is! Veronica nailed it! If you want a website for your business, you will not be disappointed!!! Thank you Veronica, you are truly talented and I can see that you love what you do! You went the extra mile, and I am incredibly thankful!

...
---
Christine Jeanne
---
2018年10月16日
---
查看專案
Veronica was a pleasure to deal with from the onset. We mainly corresponded by email and her responses were always quick, friendly and informative. She considered everything that I needed and made changes to my website as requested. Nothing to fault! Overall, I'm so happy with the look of my site: It's clean, straightforward and pretty. I highly recommend Veronica from 'More than your Brand'.

...